Stephens Natural Resources has an active presence in many of the country's most productive basins
Including the Arkoma, Bakken and Deep Water Gulf of Mexico, with activity in Arkansas, Louisiana, Oklahoma, Montana, North Dakota, Texas, Wyoming and the Gulf of Mexico. The company's operating and producing wells are centered in the Arkoma Basin, with other operated and non-operated wells in various regions and basins.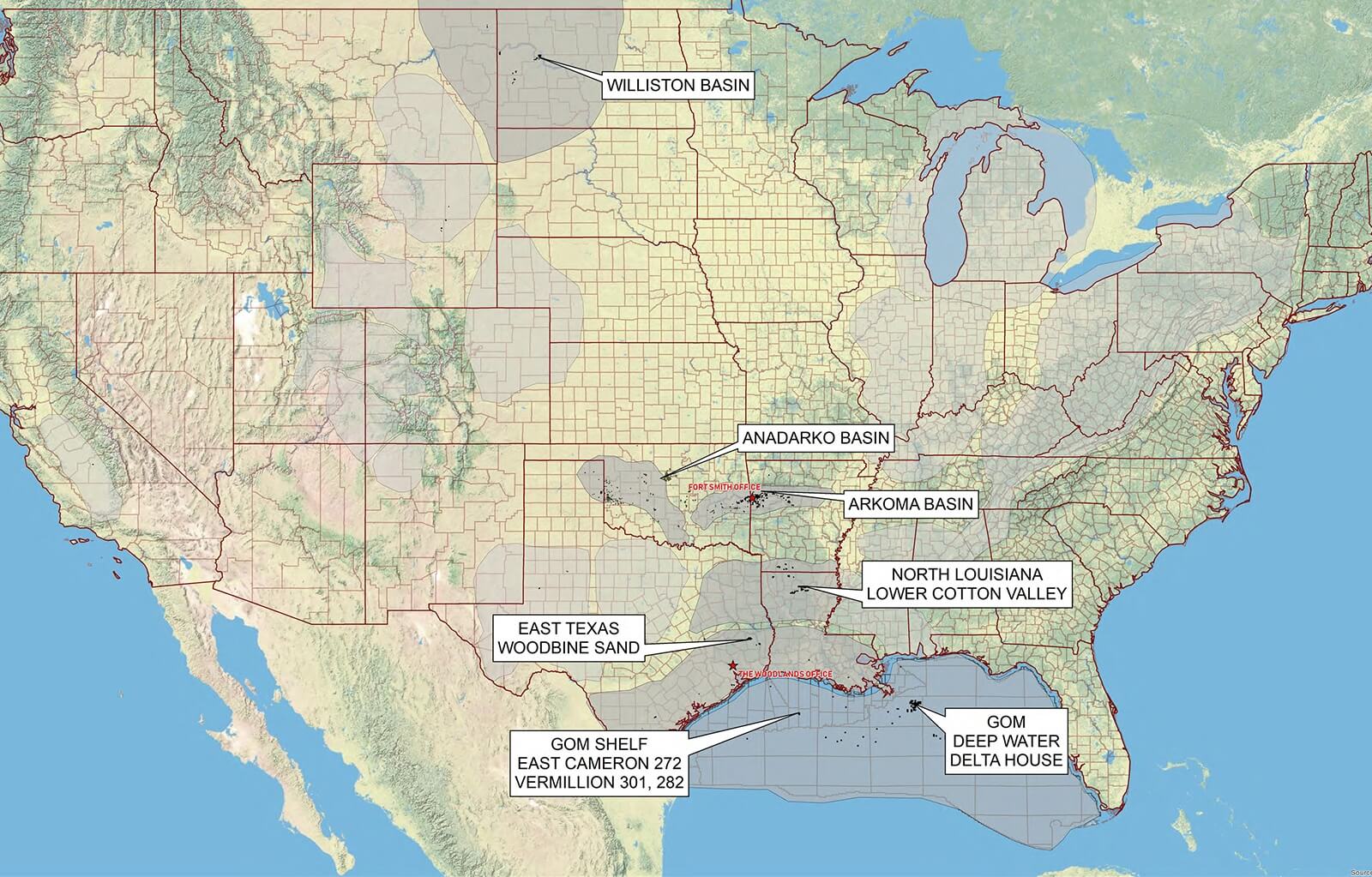 Stephens Production Company
Operated wells and drilling activities are primarily in the following areas:
Arkoma Basin (western Arkansas and eastern Oklahoma)
North Louisiana
Central and Northern Oklahoma (Logan and Woods counties)
Approximately 890 operated working interest wells throughout these and other areas
Non-Operated wells and drilling activities are primarily in the following areas
Arkoma Basin (Arkansas and Oklahoma)
Bakken (North Dakota)
Lower Cotton Valley (North Louisiana)
Southeast Texas Woodbine
Mississippian Stack (Logan and Woods counties, Oklahoma)
Approximately 950 non-operated working interest wells in these and other areas
SPC, as operator, has drilled more than 1,000 wells and has participated in another 1,200 wells as a non-operator partner. SPC currently holds a working interest in more than 200,000 net acres across the U.S.
Mid-Stream Assets
Stephens Production Company owns 385 miles of oil, natural gas and saltwater disposal pipelines in Arkansas, Oklahoma and Louisiana
---
Calypso Exploration, LLC
Non-operated activities
Delta House Project – located in approximately 5,200 feet of water 130 miles southeast of New Orleans, this deep-water Gulf of Mexico operation is located in the Mississippi Canyon Area. Calypso also owns a minority interest in the Delta House Floating Production System
GoMex Platform – located on the Gulf of Mexico shelf with wells in the Vermilion Area: South Addition. The platform is currently producing oil and gas from nine wells
Total of 28 non-operated working interest wells, 13 of which are deep water wells
Participated in over 30 exploration and development well projects in the Gulf of Mexico to date
---
Safety
Stephens Natural Resources recognizes the risks inherent in our efforts to find and produce clean and reliable energy. We are committed to conducting operations utilizing processes and technology which are worker, customer and environmentally responsible. "Safety is the responsibility of every member of the SNR team" is an attitude which begins at the top levels of management and is instilled in our workforce through rigorous review of our policies and procedures, regularly scheduled training and implementation of industry best practices.
---
FAQ's
What is the contact information for any questions concerning environmental or safety issues related to SNR's operations or employees?
To obtain information please email: sbillings@stephenspro.com
Does SNR have a contact for questions related to pipeline safety or integrity issues?
Yes. Email: treinhard@stephenspro.com